About a month ago I was invited to audition for a modeling campaign for a brand that you know that produces a doll that you've seen. I was chosen and instantly validated that to them, I was enough.
Then Edna came to town.
Quickly, she reinforced all the negative things I tell myself.
Have you seen the cartoon, the Incredibles? If my super power is being able to pose, Edna is the seamstress of my ego.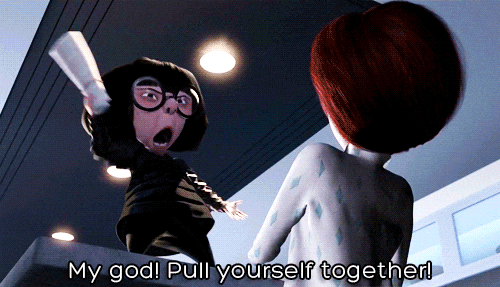 A tiny, angry woman (there's a team of Edna's but they have the exact same temperament.) Edna's job is to sew me into clothes before a photo shoot. In case you didn't know, the clothes you see on a model in a catalog aren't just slipped on off the rack. They're sewn, rouched, pinched and clipped to optimize the look on that particular figure. And the more sewing Edna has to do, the angrier she gets. If you ever pass by a photographers studio and see a pale, starved model, clothes half hung around her, chain smoking stale Parliaments with a blank stare, be kind. She's just seen Edna and she probably still has a sewing needle lodged into her side somewhere that she can't find. Edna is also responsible for my measurements and if a 1/4 inch off, she'll let me know in the most hostile way possible.
There's a loose sewing needle floating somewhere around my spleen. I just know it.
Last night I had the pleasure of spending some time with a group of ladies in town for a birthday party. Three of them I've known over 30 years. These women are beautiful. Actually, they are three of the most naturally beautiful women I've ever seen up close. Porcelain doll faces, flawless skin that looks airbrushed by a master painter, long, lustrous hair, toned, athletic figures. Magnificent women. Yet mixed with our laughter and joy were undercurrents of insecurity and body dysmorphia. I picked up on it because it was all playing in my head, too.
It's the voice in our heads that says, "I'm not enough."
Driving home I was thinking about these three stunning women, accomplished, fun and truly physically beautiful. How could they not think they're enough just as they are? How could they not see that right now, in this moment, they're perfect? And why can't I believe it myself?
Stanford psychologist Meag-gan O'Reilly pinpoints five things that get stolen from us when we despair that we're not enough:
Dreams

Ambitions

Relationships

Health

Happiness
That's pretty much life. So she's saying Life is stolen from us when we tell ourselves we're not enough. She says,
"IT CAME FROM SOMEWHERE SO SEND IT BACK. These encounters echo earlier occasions in our lives when we felt like our value as a person was determined by other people, usually adults, and fluctuated depending on what they thought of our latest grade, game, performance or accomplishment. What were some of the early messages you received about who you needed to be to show up in the world as meaningful?"
Now what? How do we stop the loop in our head that says we aren't worthy? We aren't enough?
I've struggled with romantic relationships. I've gone through a divorce. I've had my share of ugly romances. What has been my role in them? I've looked to these men to "choose" me, validate me, make me feel like I'm enough. But unless I do the work to send back the messages I heard as a child or learn to validate myself, all those relationships were doomed to fail.
This is not limited to women, either. Men feel it just as much, though it tends to show up more in their professional lives. Pre-Covid, more than two-thirds of antidepressants prescribed for teens were for girls, and girls comprise more than 90 percent of hospital admissions for eating disorders, says the Anxiety and Depression Association of America.
"(We're) caught in a cycle of neurotic perfectionism," says Richa Bhatia, a board certified psychiatrist in San Mateo, California, and former faculty member at Harvard Medical School.
As I'm now in my "halftime" of life, as penned by Bob Beuffert in his book by the same name, I'm working on addressing the beliefs I've been reinforcing for years that are getting in the way of me living the life I want to live.
Here are three daily habits I have adopted.
Practice Mindfulness.
Mindfulness, practicing being present, being quiet, is a wonderful technique for slowing down to hear your thoughts clearly. It is about listening and letting go to thoughts without judgement.
2. Cull Your Friends List.
Surround yourself with people who build you up. If that friend or co-worker is constantly critical of you, themselves and/or others, BURN THAT BRIDGE DOWN! I'll bring the lighter fluid. Or perhaps just set boundaries with them. No matches needed.
3. Practice Gratefulness
Take time each and every day to be grateful. We often get so focused on what we didn't do or how we failed to accomplish what we had hoped, we don't appreciate the small victories we did have. The more you practice gratefulness, the more you'll see you are accomplished. Your life has value to those around you. You have a purpose, even if you don't see it quite yet.
You are worthy.
You are enough.
You are.
I promise.